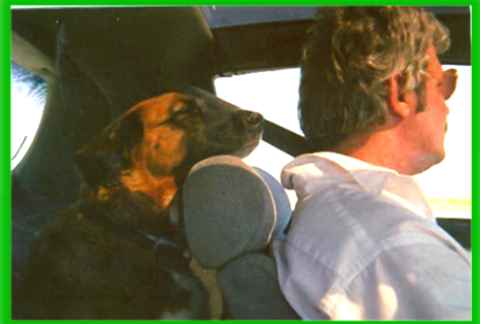 This page is In Memory of
Jeffrey A. Pawluk
August 4, 1956 - January 18, 2000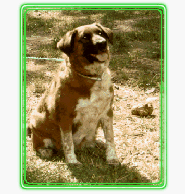 "ALICE JOYCE"
Born in Barrow, Alaska in October 1991


Well hello, my name is Alice Joyce and I would like to introduce myself to you by telling you my life story. Well let's start at the beginning. My Mother was a pure bred Lab named Cuddles and my Dad, I believe, was a Rottweiler. I say believe, because my Mom was raised by my human Mom and Dad and she liked to jet out the door on occasion and party around the neighborhood. That's how I came about eight years ago. I was born in Barrow, Alaska which is an Inupiut Eskimo community located in Alaska far above the Arctic Circle. Barrow, is said to be the farthest north town in North America and as you might guess it was very cold in the winter getting down to –50 below 0 degrees at times (lucky for my heavy fur coat). At two, I had a litter of puppies (like mother, like daughter). Anyway, after 5 years we moved South to Peters Creek, Alaska which is 15 miles out of Anchorage. My human parents bought a nice house and I loved it there as we had a huge piece of property and lots and lots of trees and you know how us dogs love trees. I had never seen a tree before Peters Creek as Barrow is too far North for them to survive the cold. After about a year or so we moved again to Phoenix, Arizona for a year. I got to drive down in the car through Canada with my human Dad and had a blast. That is why the theme song that is played on my web page is "six days on the road". I was born to ride with the wind blowing through my hair riding shotgun and love it with a passion. Once I got loose in Anchorage and a man had his truck door open talking to someone. Well not being shy I thought I would just jump in and sit in the front seat and go for a ride. Boy did I get in trouble and got a lecture about riding with strangers. After Phoenix I moved to Fremont, California which is on the East side of the San Francisco Bay, South of Oakland. I spent 8 months there and then it was off to Fort Lauderdale, Florida which is my home now. Funny thing about all this fur is it keeps me cool as well as warm. Go figure…Well that is my story. With all the traveling I do perhaps we'll meet on the road someday.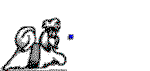 GO TO "A TAIL OF TWO SHIH TZU"