A Tail Of Two Shih Tzu
TASHA MAY LIN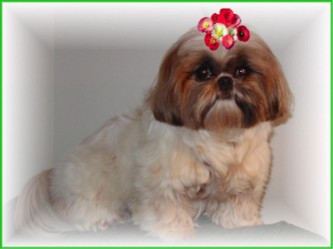 Hi, my Mommy and Pa Pa (that is what he likes me to call him) wanted to make this page about me and put this silly flower in my hair to dress me up. Sometimes I think they think of me as a baby and want to make me look cute all the time. I don't mind though, even if my best friend, Chu Chu, laughs at me. Of course, I am the boss in this house and every so often I have to let Mommy and Pa Pa know that. Chu Chu always lets me have my way even though he is bigger than me. Every night between 7:00 PM and 9:00 PM I get this terrible urge to wrestle with Chu Chu but he is ready to relax at that time. I never let him get away with it though--I bark and bark right in his face until he gives in to me. He really is so funny when he tries to ignore me.
I would like to show you some more pictures of me that were taken since Mommy and Pa Pa adopted me.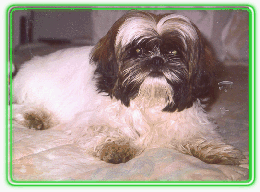 This is one of the first pictures that was taken of me. Don't you think I look cute? I was about 5 months old then. Mommy says I change every day.


This one was taken after a bath" Mommy says I look my best when I am soft and clean but I really hate a bath.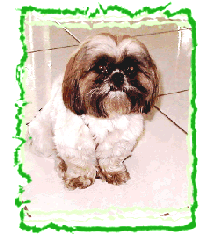 Here I am waiting so patiently for Mommy or Pa Pa to give me my dinner. I only wait so long and then I start to throw my empty dish around. That always gets their attention.
This is my favorite place to be....laying right on Mommy and Pa Pa's bed. Boy, their pillows are so soft.
I am so proud of the award below! I made "Shih Tzu of the Month" for November 1999 which was awarded through the list my Mommy belongs to which is "Shihtzu4u". Mommy says she has learned so much from this list and is able to understand why we Shih Tzus are the way we are. Mommy and Pa Pa also said they are very proud to show another award I received in the "Little Angel" Pet Contest. They just love to brag about Chu Chu and me.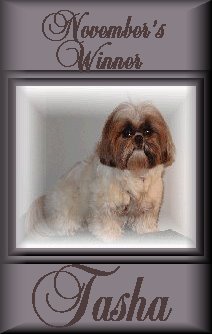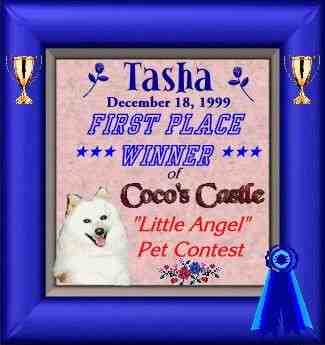 I guess I will end this now for awhile, at least until Mommy adds more to my web page. I hope you enjoyed your visit and please come back again. Now that you have seen my page, why don't you go and visit my best friend, Chu Chu's page. You will love him too! Oh yes, I have a "cousin" named Alice Joyce (she is a "want to be Shih Tzu") and you might want to meet her too by clicking on her name.