Welcome to Marta's Web Page
A TAIL OF T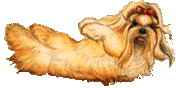 WO SHIH TZU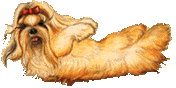 LIFE BEGINS WHEN YOU OWN 2 SHIH TZU

Tasha and Chu Chu

Our Story
Tasha came to us one day as a gift; something we never expected. She was just 9 weeks old on that day and just as cute as a button. A lady had dropped Tasha off at my place of work because she found her landlady would not let her keep an animal in her apartment. She did not want to sell her but wanted to be sure she had a good home. I have always had a dog in my life but since marrying my husband and living in a condo I thought my days of having a dog was over.
I have to say that my husband did not want a dog and seemed very definite about his feelings. I thought maybe if I took her home for the weekend, she might grow on him. Of course, she did and by Sunday he did not even want me to bring her back to work. That settled it, we were the happy owners of a Shih Tzu.
We named her Tasha May Lin. May Lin was the name she had given to her originally. I liked it so I added it to the name I chose. She is a beautiful parti colored (mostly white, sable, tan & black) female. Tasha had the energy of two dogs and my husband and I felt bad for her being she had no one to play with but us. We thought it over carefully and decided to find another Shih Tzu for her playmate. We found Chu Chu through Shih Tzu Lap Dog Rescue when he was about 7 months old. Tasha was 5 months old at that time. Chu Chu is a mostly black and white male. He is a handsome fella and just loves Tasha. He was neutered through Shih Tzu Lap Dog Rescue and we had Tasha spayed shortly before we brought Chu Chu home. We were a little concerned that maybe Tasha would not accept Chu Chu but it was love at first sight.

We are very grateful to the kind lady that gave us Tasha and to Shih Tzu Lap Dog Rescue for finding Chu Chu for us. Shih Tzu Lap Dog Rescue is a wonderful non profit organization headed by a lady named, Harriet Rickenback who can be reached at (305) 935-1753 if you are interested in adopting a lovable Shih Tzu.
OUR SHIH TZU FRIEND "SENORITA PILAR"
MEET OUR GOOD FRIENDS "BARBARA'S FUR BABIES"
Please Sign My Guestbook So I Know You Were Here

Sign my Guestbook
View my Guestbook